Haartransplantation DHI Direct
DHI Direct is superior to other methods in many areas:  Like no other method, we can gently and painlessly help those affected to get more natural looking and denser hair.
We do this with the help of a minimally invasive technique that has been tried and tested for many years, in which we use a specially developed instrument (the "DHI Implanter") instead of a scalpel.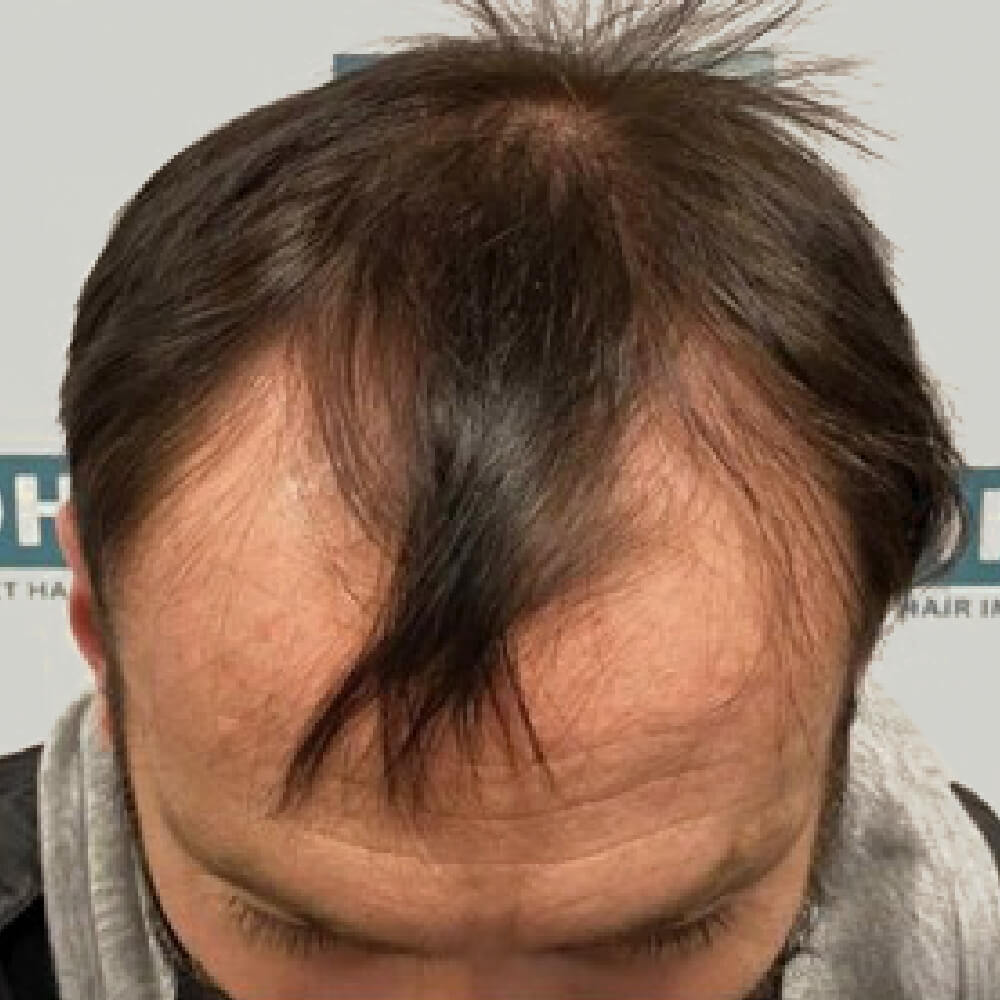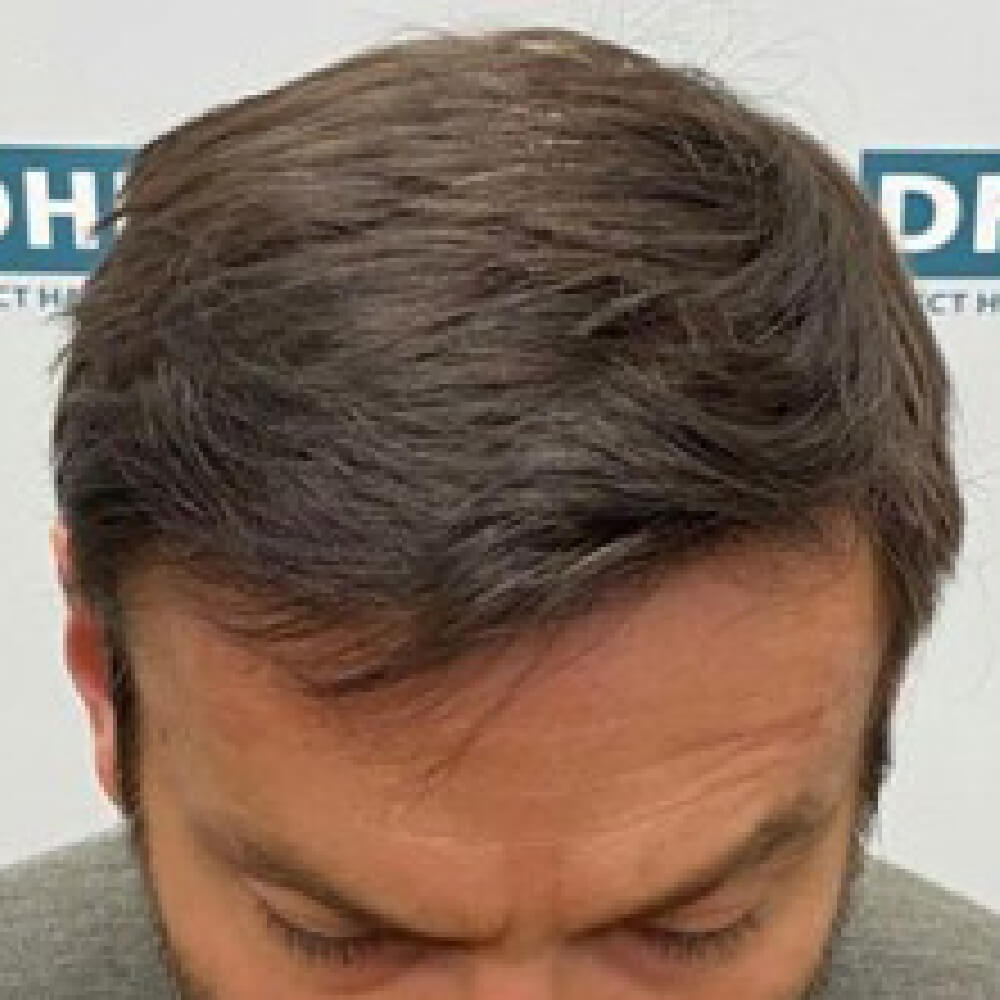 The wish for an effective solution to your hair problem
For men, hair loss on the scalp is usually genetic predisposed, but stress, hormonal changes or nicotine can also cause hair to fall out. Other men – and also women – often want to aesthetically correct congenital peculiarities of their hair, e.g. a a high forehead or thinning hair on scalp, beard or eyebrows.
A hair transplant is the only really effective solution in all these cases! DHI Vienna can help for the long term with a painless, safe and professionally performed procedure. In a free-of-charge and non-binding initial consultation we will talk to you about your situation and your expectations. In doing so, we give you a well-founded and realistic assessment of the possibilities, of the hairtransplant cost and of the advantages of the DHI method.
The advantages of DHI Vienna at a glance
The combination of an innovative, gentle method, an international company with over 75 partner clinics and a renowned medical clinic near the center of Vienna make DHI Vienna a very good choice for local as well as international patients. Find out for yourself and make an appointment.
Great Value for Money
All procedures are carried out in Austria under strict quality standards and only by specially trained doctors, for maximum safety and quality.
Almost pain-free
For follicle removal and implantation, we use the smallest possible instruments (diameter <1mm) and no scalpels, bascially eliminating pain
250,000 worldwide patients
DHI is active  in 75 clinics worldwide and can look back on 50 years of experience. Our clinic in Vienna is the exclusive DHI partner in Austria.
Effective and gentle
Only healthy hair follicles with good growth potential are selected and implanted. Our method works without cuts and holes, so a very fast regeneration is achieved.
Fast return to everyday life
Patients can go back to normal life within a few days, due to the minimal invasive methode and the resulting fast healing after the transplant.
No scars
The procedure is carried out completely without cuts and holes and thus enables a scar-free result.
What reasons brings you to us?
With more than 50 years of experience in hair transplants worldwide, we know the problems and expectations of the people affected. We therefore know that your treatment request usually falls into one of the following categories, for which we can offer a suitable, effective solution:
Genetically induced hair loss
This is the most common reason why men opt for a hair transplant: for some already at a young age at the first signs of hair loss, for others only later when the hair has already fallen out more extensively
Our DHI approach:
There is no "right time" to decide on hair transplants: all men have individual and very personal circumstances, worries and wishes. A comprehensive consultation with DHI will help you make the right decision for yourself, especially regarding  the right time and to what extent hair should be transplanted.
Decisive factors in the assessment:
Age
Progress and speed of hair loss
Texture and quality of hair in the donor area
Aesthetic wishes
Personal circumstances and expectations
Aesthetic correction of the hairline
The hairline is the forehead-hair limit, which is congenital but can change over time. This includes e.g.  receeded corners or a high forehead base. With a hair transplant, the hairline can be moved as desired and of course permanently.
Our DHI approach:
At DHI Vienna, we can optimally implement hairline corrections for men and women: Our doctors have a lot of experience in changing hairlines in a visually appealing and natural form; and the DHI implantation method  gives them the tools to implement this task with precision.
Decisive factors in the assessment:
Quality of the donor area
Aesthetic wishes and expectations
Texture and quality of hair in the donor area
Aesthetic densification of the hair
Often it is not bald spots that are the problem, but a lack of density of hair in certain areas. The big challenge with such an operation is to avoid damaging existing and healthy hair follicles in the recipient area during implantation.
Our DHI approach
Basically, only the DHI method is really suitable for hair densification: Because thanks to our method without scalpels, we can also transplant hair into areas where healthy hair is located without them being injured by the implantation of the transplanted hair. Other techniques (e.g. FUT, FUE) work with scalpel or scalpel-like instruments during implantation, where there is a high risk of injury to existing hair roots.
Decisive factors in the assessment:
Quality of the donor area
Haardichte im Bereich der Transplantation
Schonende Technik, die bestehende Haarwurzeln nicht verletzt
Hair corrections after accidents
Accidents can have major effects on scalp or face, often  lead to scars. Transplanted hair could  then be really helpful as "natural covering".
Our DHI approach
The DHI method is ideal for aesthetic corrections after accidents due to its accuracy. Our experts can transplant hair on or around existing scar tissue very precisely in terms of direction and angle (with the help of the DHI implanter). Scalpels or scalpel-like instruments of other methods lack this accuracy.
Decisive factors in the assessment:
Position and texture of the scar
Quality of the donor area
Aesthetic wishes and expectations
Failed or bad previous hair transplant
Patients whose hair has been poorly transplanted by another clinic, often abroad, and who are not satisfied with their result, often look for the possibility of a corrective transplant.
Our DHI approach
Patients come to us because the previous intervention of another clinic achieved too little density in the important areas or left an unsightly scar. Our DHI experts cannot undo all mistakes of the past (e.g. a thinned-out donor zone), but will inform you openly and in detail about possible corrective measures.
Entscheidende Faktoren bei der Beurteilung:
Realistische Beurteilung der Vor-Transplantation
Verblebeinder Umfang & Qualität der Haare im Spenderbereich
Ästhetische Wünsche und Erwartungen
Corrections after a sex change
After sex changes – both from man to woman and from woman to man – it may be that scalp and facial hair – despite hormonal changes – do not meet the "new" aesthetic expectations.
Our DHI approach
DHI has experience in providing the necessary help in such cases. Therefore, women have often transplanted additional scalp hair or men are looking to densifiy  the beard .
In a consultation with our experts, we will discuss essential circumstances, especially the interaction of hair growth and hormone therapy, and give you a suitable recommendation.
Entscheidende Faktoren bei der Beurteilung:
Fragen rund um die hormonelle Behandlung
Umfang & Qualität des Spenderbereiches
Ästhetische Wünsche und Erwartungen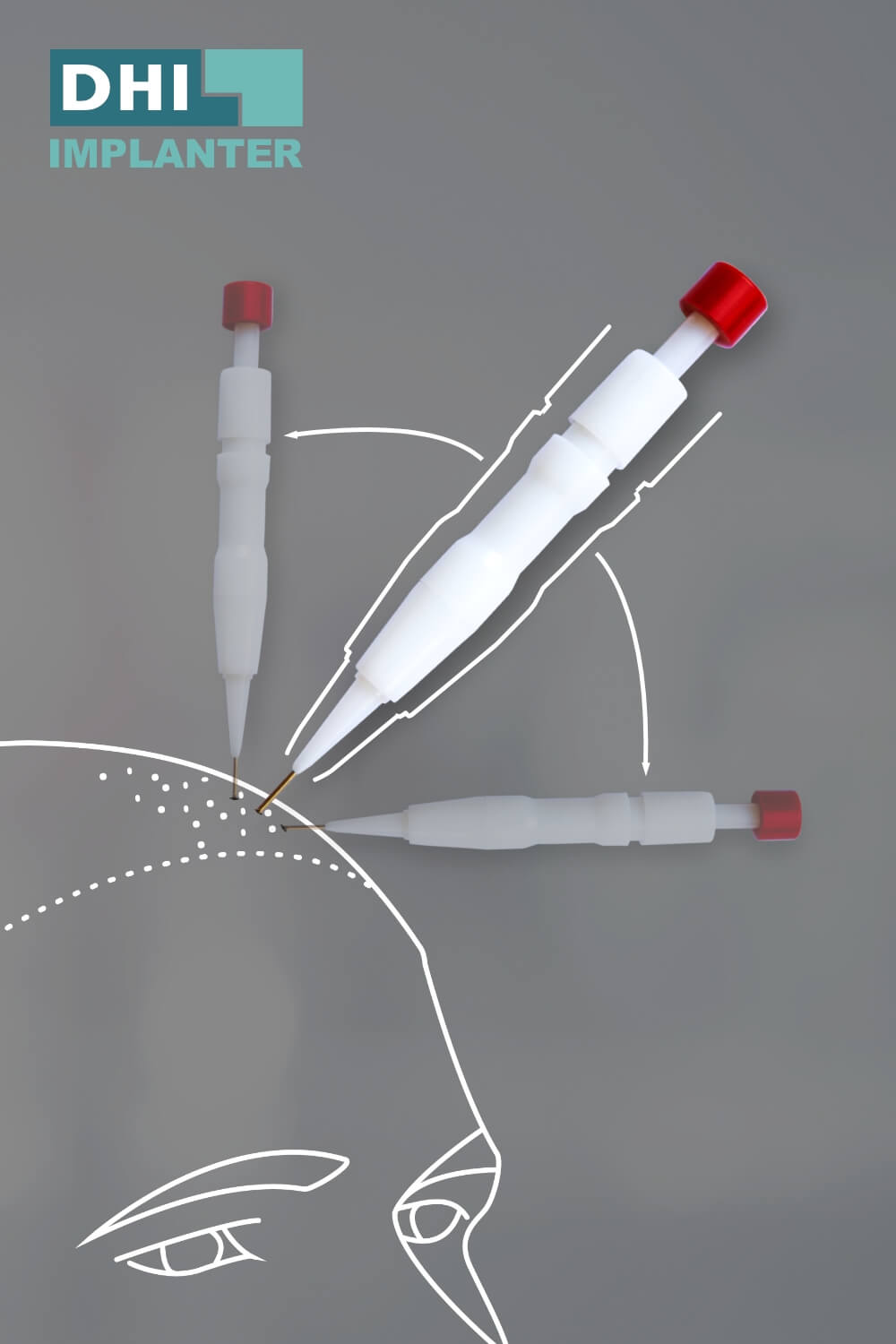 The DHI implanter is a  10 cm long pen specially developed by DHI, which leads to better results than any other instrument when implanting  hair, i.e. especially  compared to a scalpel or a scalpel-like instrument.
The hair follicles are pushed into the tip of the pen and handed over to the doctor. They place the pen on the area to be transplanted, presses the pen tip into the skin, and implants the hair root. The pen tip comes out immediately. In quick succession, this process – supported by an assistant – is repeated thousands of times in a row.
The DHI Implanter enables our doctors specially trained in the DHI method to perform a gentler, less painful procedure, thus helping patients to have more natural-looking, denser hair.
Advantates of the DHI Implanter
More natural looking results due to the implanter's precision.
Insertion of hair is easily manageable at different angles (see picture).
Less redness, as insertion is "one step only" and less invasive.
No scarring, as no separate channel opening is necessary.
Faster healing and less crust formation.
Highest hair growth rate (93%+).
Particularly suitable for densifying areas where there is (thinning) hair still around.
Hair transplantation is not just science, but also an art 
Not only technical aspects are important for the success of a hair transplant, but also "artistic" aspects:
Experience, judgment and a certain artistic-aesthetic talent characterize an excellent hair transplant doctor. They must make sure that the hair transplanted, especially around the hairline, matches the facial features and shape of a person's existing hairline as well as the hairline that is expected in future.
When designing for  natural-looking hair , the doctor must work with the existing potential of hair removed from the donor zone and then distribute it in such a way that a balance between density and covered area is created. It is also important to take into account the wishes of the patient and to explain the doctor's own recommendations to the patient in an understandable way. This requires tact and know-how – something that the DHI doctors have plente of,  based on their  their experience and training.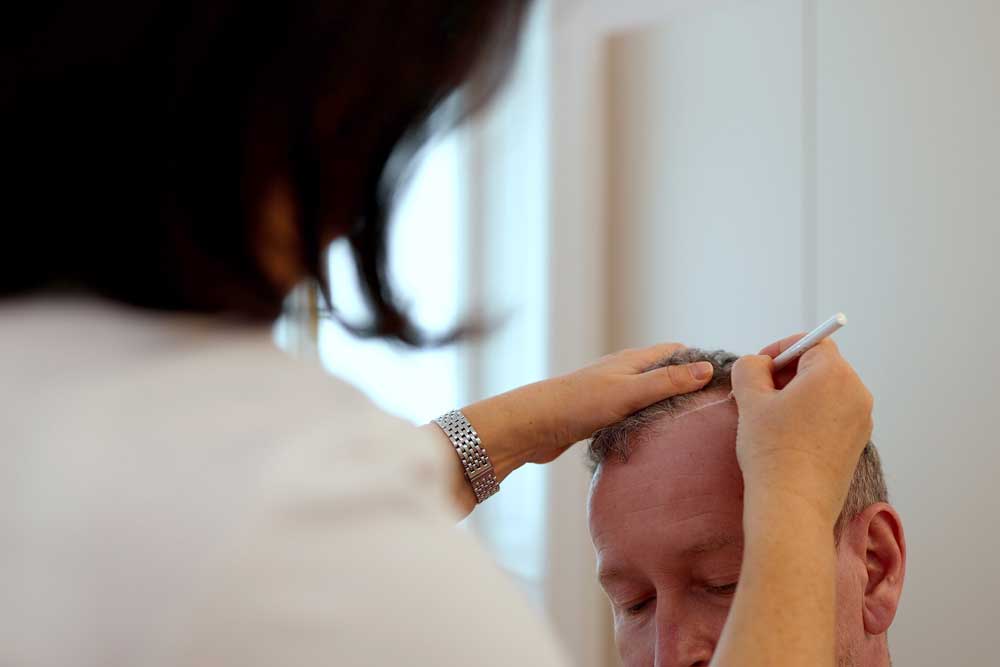 the Steps of a  DHI Hair transplantation
The DHI method has been developed over 15 years ago and  tconstantly developed further as the world's most innovative state-of-the-art self-hair hair transplantation method. With it, we achieve the greatest possible density, a 100% natural result with maximum protection of the follicles and scalp – in  a way  not possible with any other method (see also method comparison here).
Step 1: Preparation
After you confirm the hair transplant , we will prepare you for the upcoming ooperation in a conscientious and timely fashion.  You will also be instructed on all medical aspectis by a member of our medical team. Above all, we will inform you in detail about what you need to pay attention to before, during and after the procedure. We can have all conversations with you personally on site at the Centrum Aestheticum, or by phone.
Step 2: Extraction of the hair
This is carried out  under local anesthesia. With the help of an electric micro puncher, the doctor removes the hair follicles individually from the donor zone, i.e. from the back of the head or from the posterior temples. Hair from these areas is not genetically affected by hair loss, even after it is transplanted into the recipient area. Unlike the traditional FUT method, the removal takes place without any cutting.
Step 3: Intermediate storage of follicles
During the period between extraction and insertion of the hair, our medical team will count, sort and then store the follicles  in a special liquid at a fixed temperature, which promotes its growth after insertion. With the DHI method, the follicles are never separated nor cut during this time – i.e. they are inserted in the same shape as they were extracted, which is unique, leading also to the high growth rate of follicles (>93%)
Step 4: Implantation
The insertion of the hair in the recipient area is then carried out with the specially developed "DHI implanter". This is a pen of about 10 cm long with a  very narrow tip (<1.0 mm) in which the hair follicle is fixed and then pressed into the scalp by the doctor, which  implants the hair root. This minimally invasive process is also carried out under a light local anesthesia. The implanter has significant advantages versus other commonly used instruments. This can also bee seen with the  hair transplant before after pictures. 
Step 5: After Care
Immediately after the procedure, the attending physician will sit down with the patient on site and explain in detail the rules of conduct for the days and weeks after the operation. Aftr that our medical team  can be reached at any time via mobile phone number for questions or assistance. If necessary, a personal check-up appointment can also be arranged.
In the weeks and months that follow, we are interested that you stay in touch with us, e.g. by sending up-to-date photos or making a personal appointment. Patients recognize initial improvements after already a few weeks, the final result usually comes after 9-12 months.
In addition, we also advise you on possible supplementary therapy options (e.g. autohaemotherapy treatment)
Comparison of Methods
If you are considering a hair transplant, then you will come across different methods during your research that basically have a similar offer – namely the transplantation of follicles resistant to hair loss from the area of the back of the head (donor area) to the thinning or bare part of the body that is to be covered with hair ("receiving are")
Nevertheless, there are considerable differences between different techniques – especially FUT, FUE and DHI – which we would like to describe to you in detail.